Overcome Wellness
Regular price
Sale price
$99.99
Unit price
per
Sale
Sold out
Overcome Every Day is a perfect supplement for your morning routine, with an energizing Vitamin B-complex and mood-boosting Vitamin D3 and CBG, plus CBD, CBDA and turmeric to help balance inflammatory response. 
Overcome Every Day capsules are intended to support you through the toughest of days, with every ingredient carefully selected to create optimal results with a product.
Share
View full details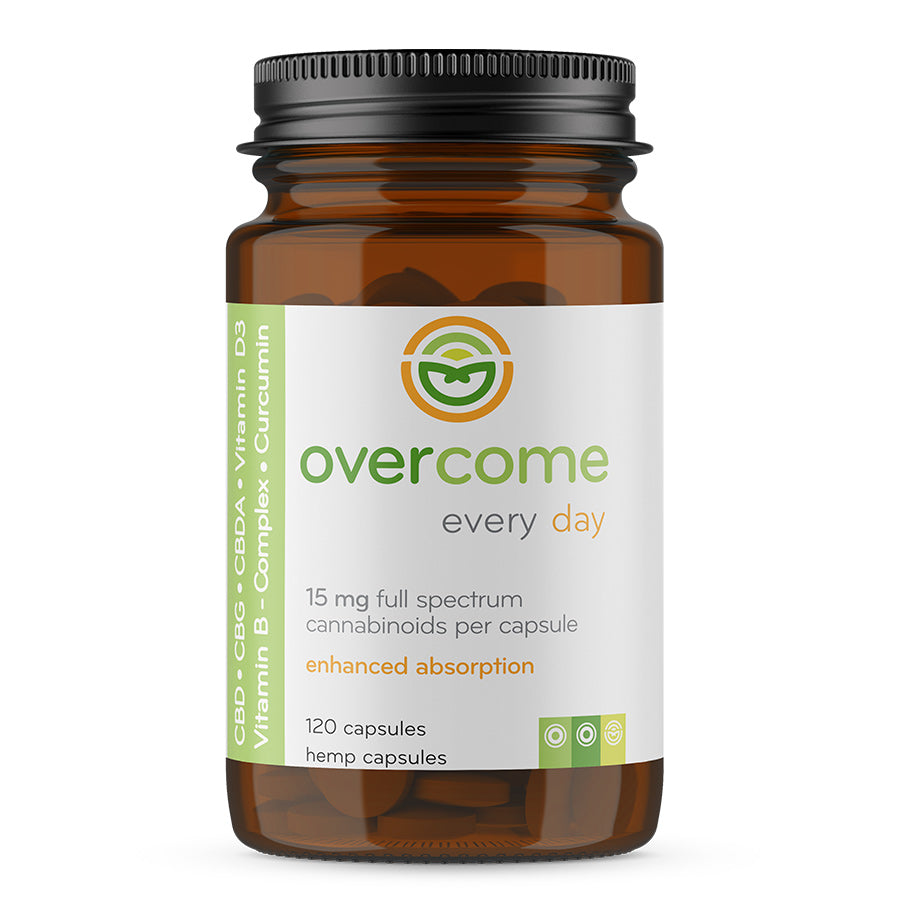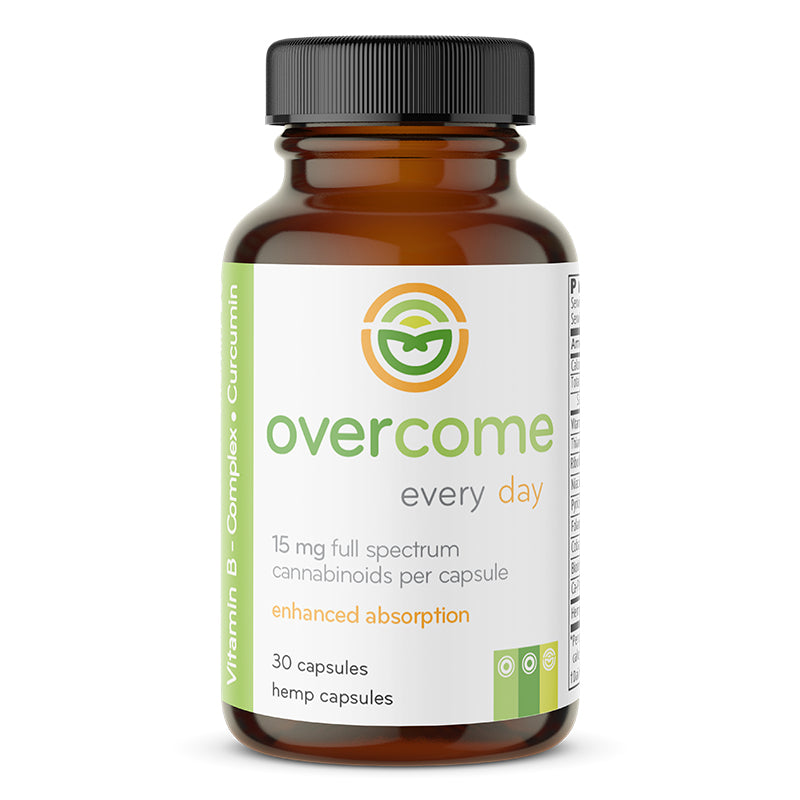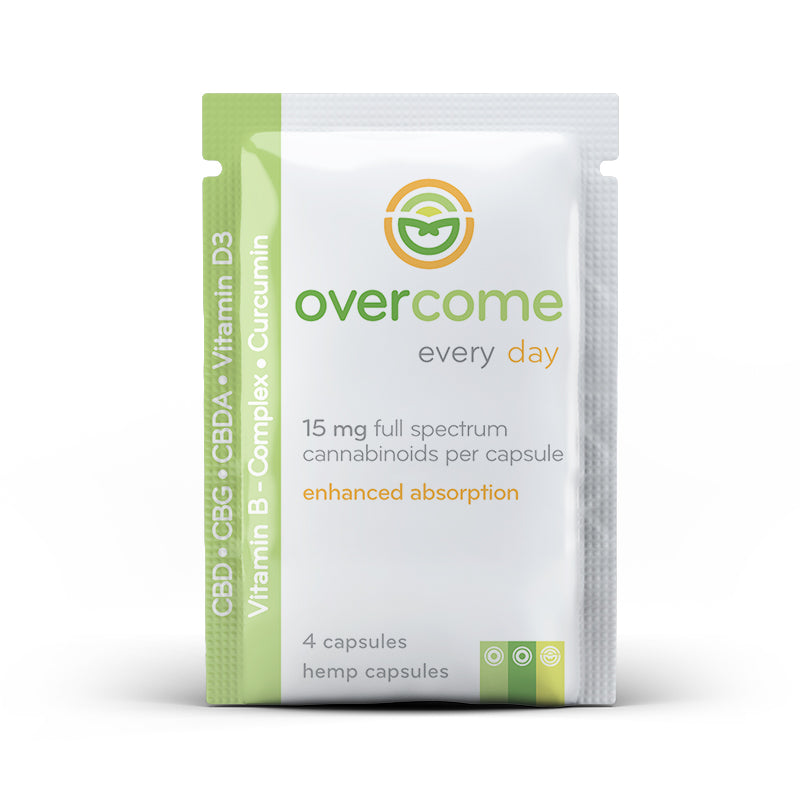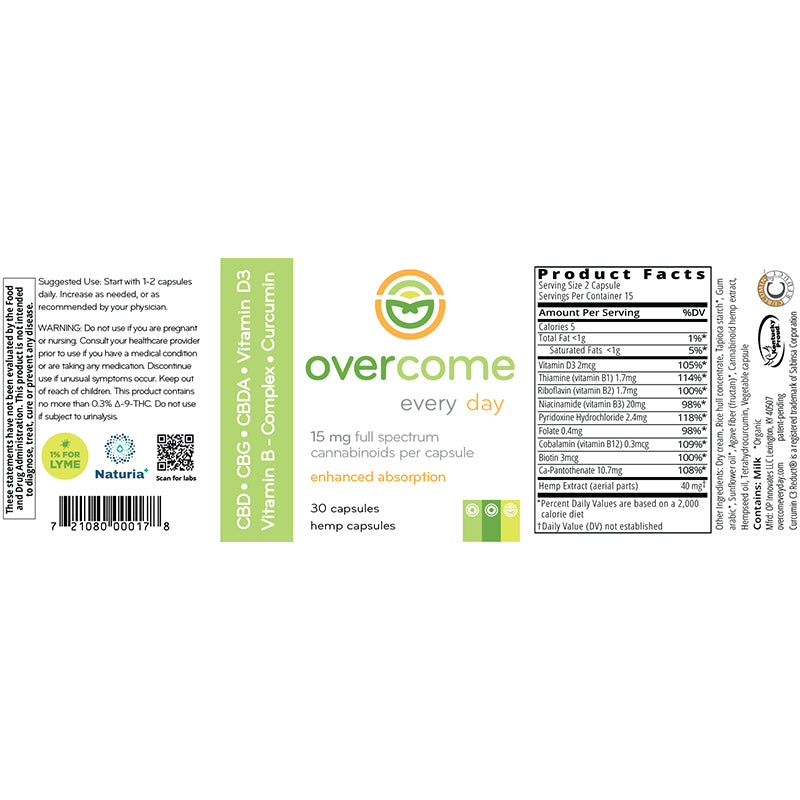 Overcome Every Day Benefits
Promotes a sense of energy and focus*

Supports relief from every day discomfort*

Encourages a Full Body Recovery*
Powered by Naturia+
Overcome uses patented, organic bioavailability technology, powered by Naturia+, and science-based supplements to improve your outcome and achieve positive results.
You'll have better, faster, stronger, and longer effects!
Overcome Every Day Product Features
Product Details

15mg cannabinoids per capsule plus Turmeric, B-complex, and Vitamin D3
Suggested Use

Start with 2 capsules daily. Increase as needed or as recommended by your physician. For best results, take after a meal or a high fat snack.
Ingredients

Rice fiber, Cream Organic tapioca starch, Organic gum arabic, Organic suflower oil, Organic agave fiber (fructan), Vegetable capsule, Cannabinoid hemp extract, Tetrahyrdocurcumin, Vitamin B3 Niacinadmide, Vitamin B5 Ca-Pantothenate, Vitamin B6 Pyridoxine HCI, Vitamin B1 Thiamine HCI, Vitamin B2 Riboflavin, Vitamin B9 L-5-MethylFolate, Vitamin C, Vitamin E, Vitamin B7 Biotin, Vitamin B12 Cobalamin, Vitamin D3,

CONTAINS: MILK
Science Backed Formulations

Naturia+ products are clinically validated to double the absorption of the nutrients into your body. This means a more effective experience for you.
Patented Bioavailability Technology

Overcome uses patented, organic bioavailability technology, powered by Naturia+, to naturally improve absorption of key ingredients into the body.

Better absorption equals results.
Product Warnings

Contains Milk Allergens

Do not use if you are pregnant or nursing. Consult your healthcare provider prior to use if you are taking medications or have a medical condition. Discontinue use if unusual symptoms occur. Keep out of reach of children. This product is hemp and contains no more than than 0.3% delta9-THC (dry weight). Do not use if subject to urinalysis.

CALIFORNIA WARNING: Reproductive Harm - www.65warnings.ca.gov

THE FDA HAS NOT EVALUATED THIS PRODUCT FOR SAFETY OR EFFICACY
Lab Results
"I believe these products are the absolute best and I trust the ingredients to be pure. Try them and you I'm sure you will be as thankful as I am!"
On a Mission

1% of sales benefits Lyme Disease research & education.

Committed to Change

Overcome products are manufactured using sustainable practices.

Customer Satisfaction

Not happy? No problem. We stand by our 30-day money back guarantee.

Questions?

Contact us and we'll help you navigate what product works best for you.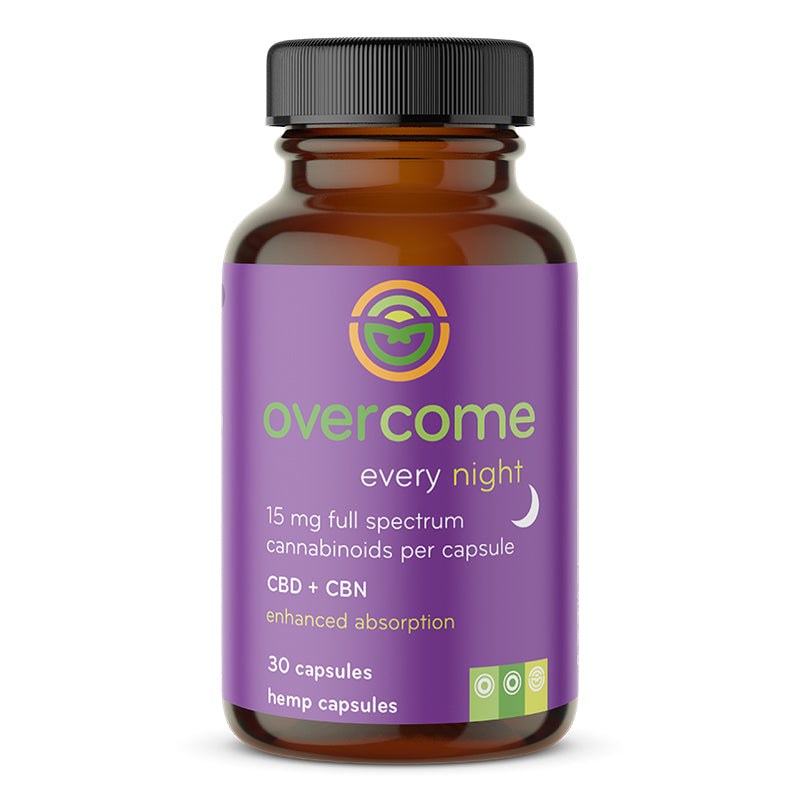 Every Night Capsules
Encourage sleep and soothe discomfort with our melatonin-free sleep capsules.
Shop now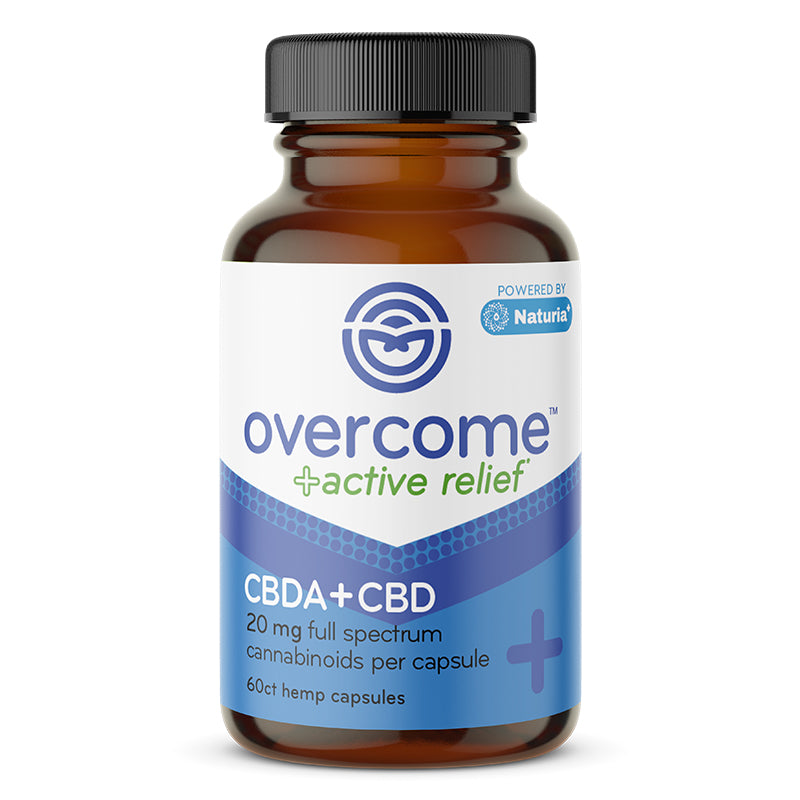 Active Relief Capsules
Encourage healthy inflammatory response and relief from exercise-induced inflammation.
Shop now
We strive to help you Overcome the next mile!
With supplements formulated for optimized absorption, targeted recovery and responsive results we help you Overcome the obstacles that keep you from achieving peak performance.